Internal Competitions

The GW Law Moot Court Board sponsors four internal moot court competitions at the school. Participation in an internal competition is restricted to GW Law students. Students wishing to participate do not need to be a member of the Moot Court Board. Individuals that score in the top 10 – 15% of the competition (subject to the Board's discretion) are invited to join the board. Learn more about these competitions below.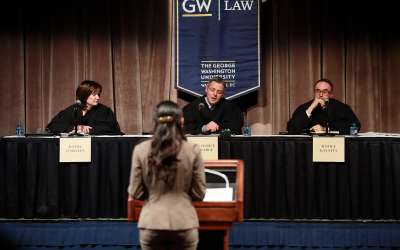 The Van Vleck Constitutional Law Moot Court Competition (Van Vleck) is the largest competitive event held by the law school each year.
Van Vleck is held in the Fall and participation is limited to upper-level students for one class credit. Members of the best team win a graduation award.
read more